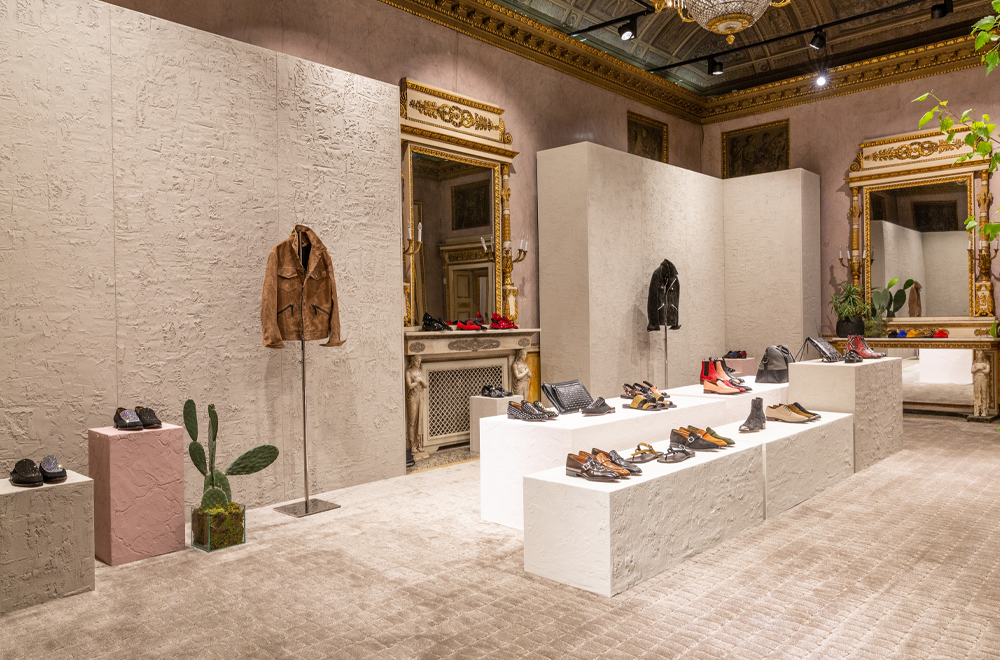 MILAN – For his Men's Spring/Summer 2020 collection, Giuseppe Zanotti, with a sharp eye to the past, delivers a fresh take on the concept of elegance. Alternating between evocative points of inspiration and a reinterpretation of the classics, the new line-up offers a series of timeless models that are always of-the-moment.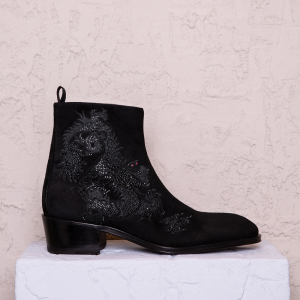 DAVEY DRAGON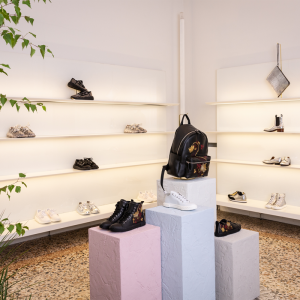 Colors are natural and full of textures: red, black, khaki and cuoio take turns in unexpected chromatic combinations, including iridescent reptile effects. The result: a wide-ranging collection that goes beyond the usual confines of day and night and is able to satisfy global tastes while staying true to its inherent soul.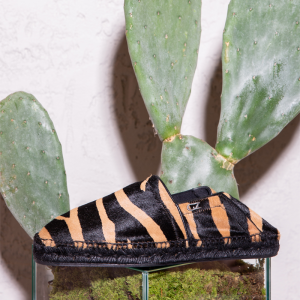 THOMAS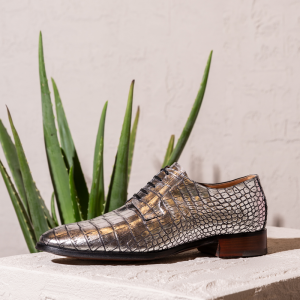 MOORE
All-over Crystals
Whether fully encrusted in crystals, embellished in metal studs or covered in rich embroidery, our incredibly soft, black suede loafers remains a timeless must-have for the Spring 2020 season. At once scintillating and opulent, the newest loafers, which fit like a glove and are always statement-making, are perfect for evening but also an irreverent option for day. For Spring 2020, a new style crafted with a rubber sole gives the classic shoe a new POV. Since there is no added reinforcements in the loafer's construction, it has a double life, both as a shoe and a slipper. Consider it Giuseppe Zanotti's glamorous approach to the espadrille.
Accessories are also retro-inspired: the Borsello bag channels the seventies, the backpack has an old-school vibe, as does the new travel bag, which is crafted in canvas and croc. Ready-to-wear features second-skin leather shirts. Lightweight, unlined, crafted in soft nappa or suede and featuring an embroidered dragon, they fit like a glove and adapt to the wearer.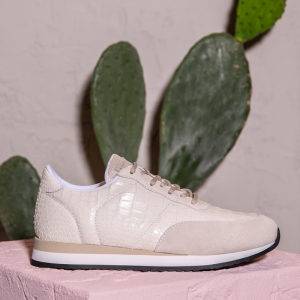 JIMI RUNNING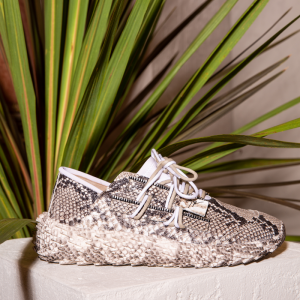 URCHIN
The New Classics
Crafted in sporty materials, vegetable-dyed, with structured foundations and full of warm, full colors, the other face of the Spring/Summer 2020 collection is smart and casual. For this part of the line-up, Giuseppe took classic silhouettes, like the Chelsea Boot and the moccasin, and reworked them into contemporary styles. For boots he added antiqued metal toe caps while for the mocs he crafted them with visible top stitching and square buckles. Of special detail: all the soles are hand-finished in a deep cherry color, giving a new twist and a slight 70s vibe. Not to be missed: the thoughtful contrasts that are found throughout—always perfectly studied and calibrated. Biker boots shed the weight thanks to a suede upper and ultra-light sole. The new Jimi Running is the perfect marriage between classic and street—its hand-cut croc-embossed upper comes together handsomely with the runner's rubber sole.
Not Just Sneakers
With the Spring/Summer 2020 collection, the Giuseppe Zanotti sneaker-verse grows even bigger. Previously unseen, 3D materials give new life to the best selling Urchin and Blabber sneakers.