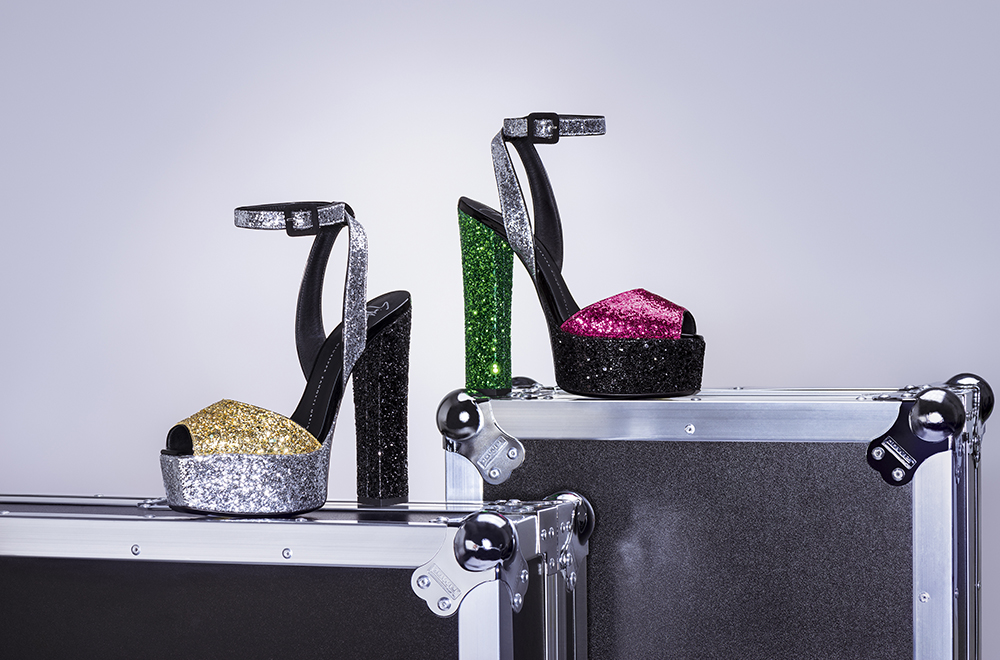 For his Fall Winter 2016 collection, designer Giuseppe Zanotti finds inspiration in the kinetic energy, youthful sophistication and refined individualism of the world's most iconic nightspots. From Le Palace Club de Paris to New York's Danceteria, the new collection pulses with a singular style that is bold and utterly free.
Temples of excess and personal style, these clubs and the wildly creative kids who frequented them introduced the world to a contemporary new form of expression: colorful, exuberant, ornate and individualistic. Taking his cue from these magical spaces, designer Giuseppe Zanotti crafts an energized collection.
Women's Collection
Beginning with a series of elegantly detailed stilettos, Zanotti's iconic couture-like embellishments reach new levels of sophistication. Artfully placed crystals create a modern day floral relief pattern across the straps of cutout suede heels. A perfectly crafted open-toe sling-back expresses refined strength thanks to its crystal toe band. New proportions reveal a thoroughly contemporary attitude.
Sneakers marry ease with design. Crafted with a much lighter sole and cleaner surface, the new mid-top model boasts understated gold accents, while a thick-soled, leather zip-up style trimmed in fur is a stylish hybrid for wintery days.
Men's Collection
For the new Fall Winter collection, the designer uses the bold colors, rich details and street glamour of club culture as inventive design fodder, peppering those essential elements with modern twists on signature symbols. Glossy patent leather, smooth velvet, metal accents and colorful embellishments are just a few of the design themes woven throughout the collection.
Sneakers – especially mid-tops – make a strong showing for fall. Some styles are cut in sleek patent leather and suede, while others are accented with either micro studs or oversized Velcro tabs. "The Runner," a new lightweight sneaker, features a graphic 3-D texture crafted from a special tech material.
The new collection is now available in the boutique at Pavilion KL.