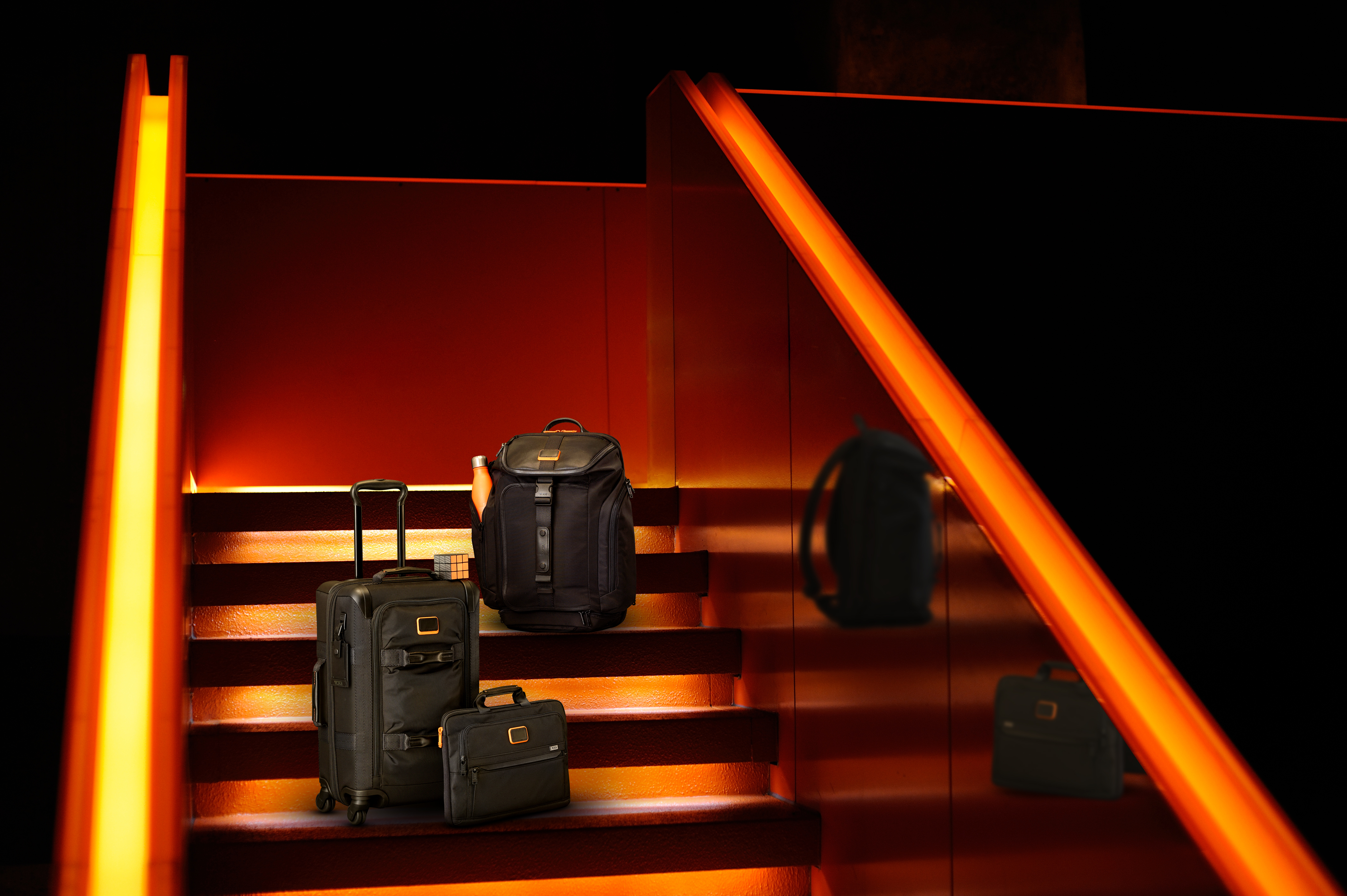 TUMI, the leading international brand of travel, business and lifestyle accessories has collaborated with Hollywood actor Chris Pratt on a unique collection for Asia Pacific & The Middle East. The TUMI x Chris Pratt collection was designed by Chris Pratt and TUMI Creative Director, Victor Sanz and features a 9-piece, ultra-exclusive capsule inspired by Chris' personal packing style.
The TUMI x Chris Pratt collection encompasses the brand's design innovation, engineering, functionality, and performance DNA while including Chris' personal on-the-road style. The idea for the product collaboration came about whilst Chris, a long-term TUMI user was filming TUMI's APAC & ME Regional Spring 2019 Campaign. On set, Chris and Victor started brainstorming their dream bag –by the time the shoot wrapped – a collaboration was in the cards.
"It has been amazing working with Chris in developing this custom created, regional collection with him. We wanted to design pieces that tapped into his lifestyle that also mirror the lifestyle and travel needs of TUMI customers. Chris is multifaceted- not just talented on screen; he's a philanthropist, a dedicated father and husband, into fitness and business – and we wanted to capture all of these elements into the assortment," says Victor Sanz, Creative Director, TUMI.
"On my travels, it's important to have something that roots me and makes me feel like I'm at home – my luggage is one of those things because it's one of the only constants I have in my hotel room. I live out of my TUMI and the things it carries remind me of home.
Anywhere I go, I can turn my hotel room into my bedroom, and it always comes out of the same luggage. After using TUMI for the past ten years, it was really exciting for me to get to design my own line and create my own TUMI with all the personal touches I love. Working with Victor and the design team was a really new and eye-opening experience – it's something I've never done before and it really showed me the attention to detail that goes into creating each bag. I'm so happy with the collection and look forward to others enjoying it," said Chris Pratt.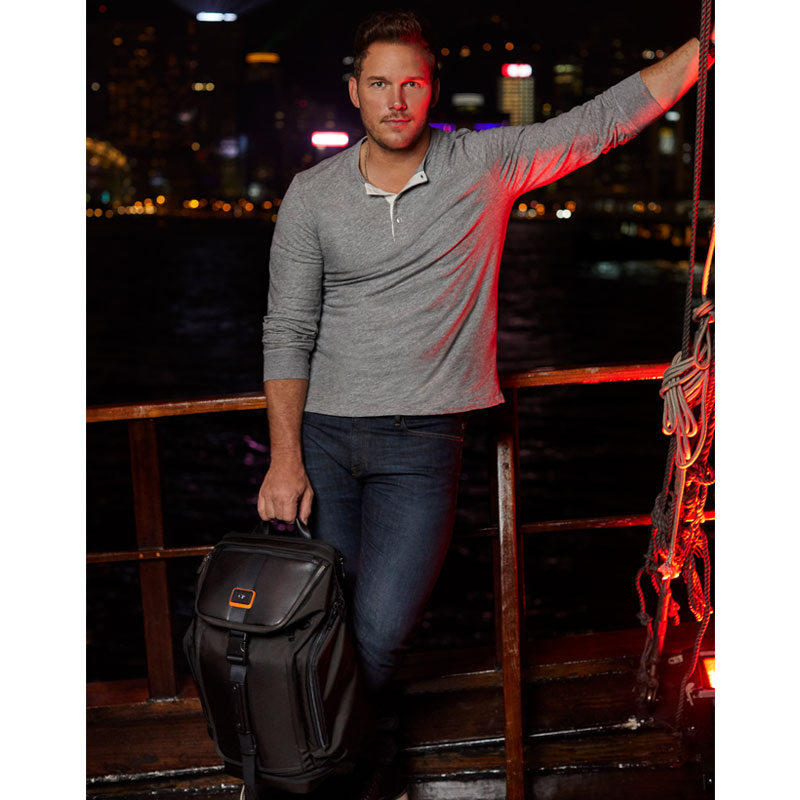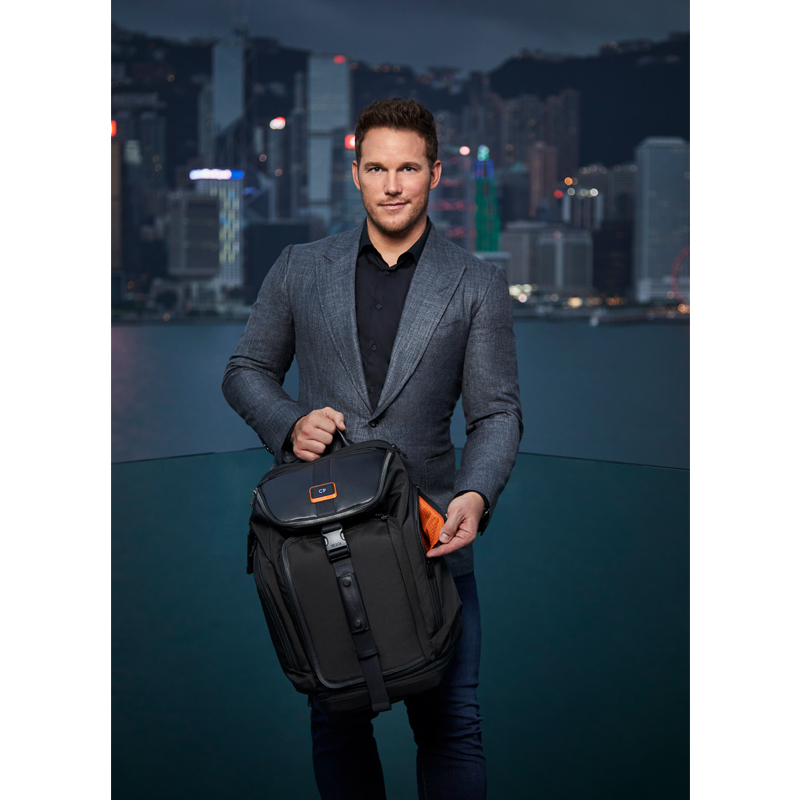 The special TUMI x Chris Pratt collection features a brand new 2-in-1 Backpack Duffel, unique travel cases, and a range of packing cubes and accessories for a perfect journey. The aesthetic of the TUMI x Chris Pratt collection is defined by striking Orange accents that brilliantly adorn each piece. The signature shade of Orange was personally chosen by Chris Pratt and will remain Chris's exclusive color throughout all his collaboration pieces. The limited-edition collection will be available at TUMI retail stores and TUMI.com this November.
Built to offer superior functionality in addition to style, the TUMI x Chris Pratt 2-in-1 backpack duffel styles and travel cases implement innovative new design features such as the usage of recycled nylon in the body material and recycled PET in the lining material, as well as USB ports for charging on the go (battery bank not included*). A story patch with a recycle statement and logo showcase the usage of recycled materials in select parts of all the backpack duffel and travel case styles.
TUMI x Chris Pratt 2-in-1 Backpack
The new exclusive TUMI x Chris Pratt 2-in-1 Backpack Duffel is a convertible style that is easily worn as a backpack or carried as a duffel with carry straps that tuck away when not in use. Made with recycled nylon and recycled PET materials, the backpack is thoughtfully designed with special touches including a USB port for charging devices, which is the first
time ever TUMI has implemented a USB port in a bag style. Other cool design features include two special waterproof-lined pockets with air vents for shoes, wet clothing or a water bottle (at the bottom and left hand side of the bag). The TUMI x Chris Pratt backpack duffel is the perfect companion for the plane, the daily commute or the gym. It comes in two versions – an exclusive limited and numbered Large 2-in-1 Backpack Duffel, as well as a more compact Small 2-in-1 Backpack Duffel.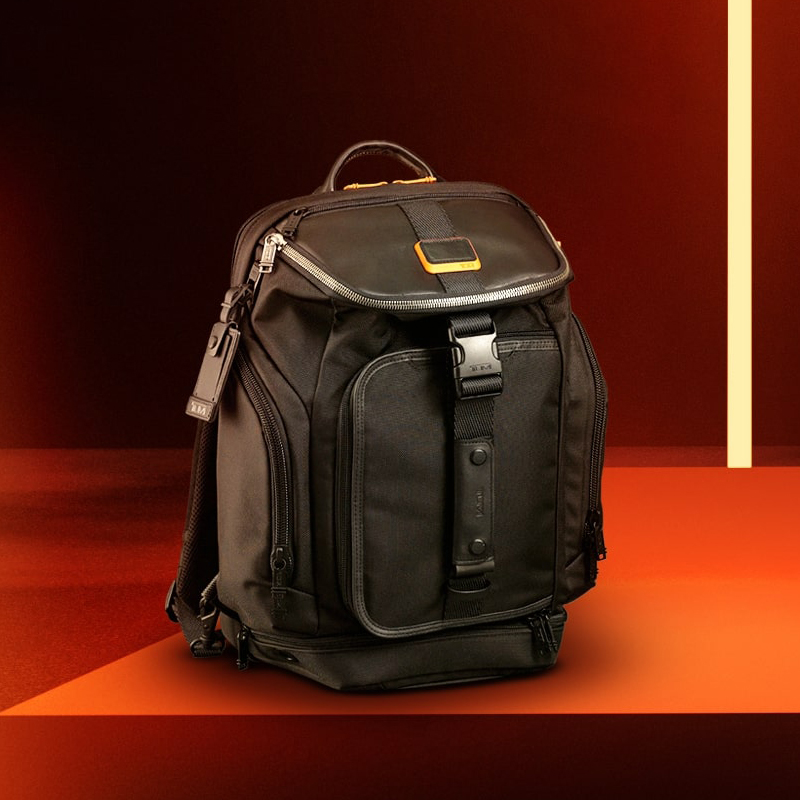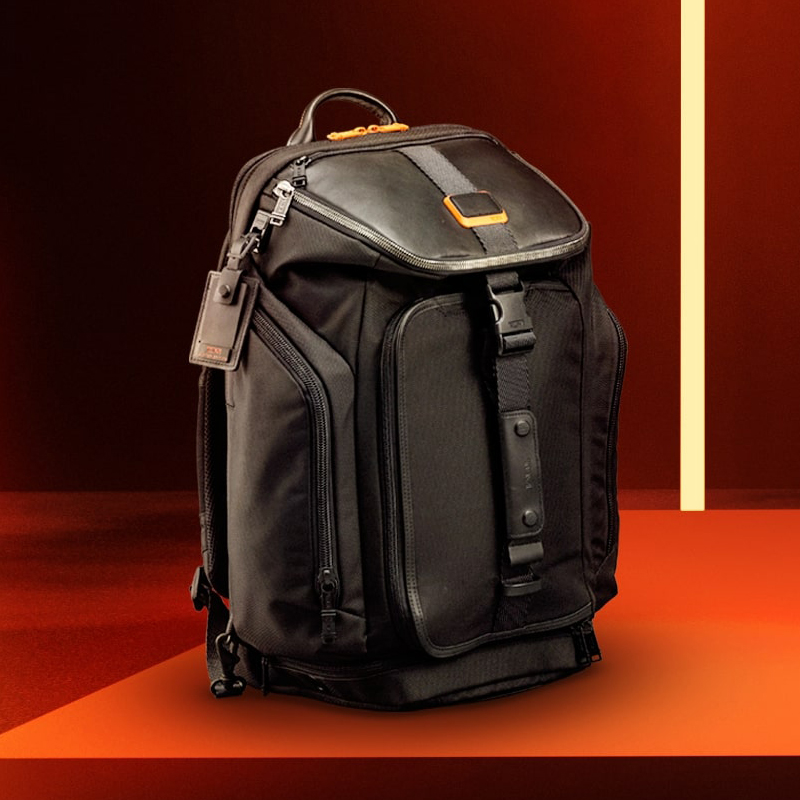 TUMI x Chris Pratt Short Trip Front Lid Expandable Packing Case and International Front Lid Expandable Carry On
The new TUMI x Chris Pratt Short Trip Front Lid Expandable Packing Case and TUMI x Chris Pratt International Front Lid Expandable Carry On are exclusive travel cases inspired by the Alpha Bravo collection. Created with recycled materials, the cases have been created for extreme convenience and ease of use. Both cases have dual-access to the main compartment, which is possible through a split case opening and a front lid opening – catering to different packing styles. Grab handles on the outside of the case and at the bottom make it super easy to pull the bag off the luggage carousel or store the Carry On in the overhead compartment on a plane. Inside the bags, helpful flaps pop up to compartmentalize the case and keep belongings organized. These can be used to pack shoes or just keep items separate. There is also a zipper expansion feature on both cases which provides 2 inches of additional space for extra purchases. In addition, the Carry-On features an all-important USB port for charging devices on the go. For a stand out touch, signature Orange accents feature prominently along the webbed top and side carry handle, main zipper pullers, lining, and monogram frame.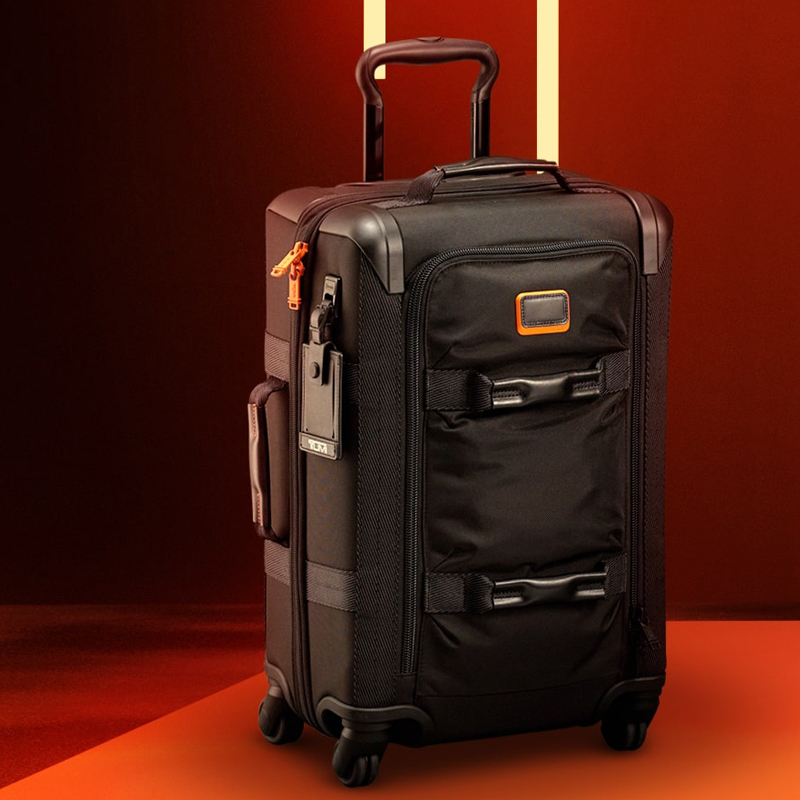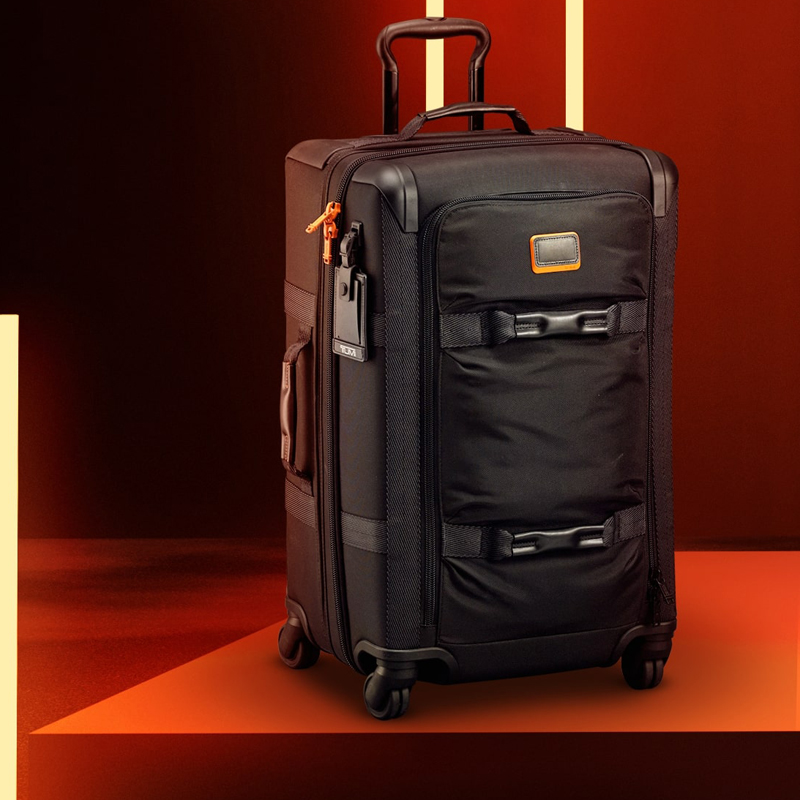 TUMI x Chris Pratt Large Travel Laptop Case and Reno Kit
For a stylish laptop carrier, the new TUMI x Chris Pratt Large Travel Laptop Case is perfect for everyday use on journeys near and far. With a removable sleeve for laptops up to 15", a zipper opening to the large main compartment and a gusseted front zipper pocket for items you use the most, the brief is a super versatile travel and business companion. Other features include a padded tablet pocket and multiple pockets for accessories, including a water-resistant external pocket for an umbrella or water bottle.
For a classic travel kit with a modern edge, the TUMI x Chris Pratt Reno Kit is the ideal travel companion. Perfect for a vacation overseas or even just a trip to gym, this handy kit can hold all your personal accessories from shower and skincare products to personal items. The waterproof U-zip pocket also means that wet items can be kept contained and separate. Easy to grab, the Reno Kit has a side clip that can also be used to attach to a towel rail.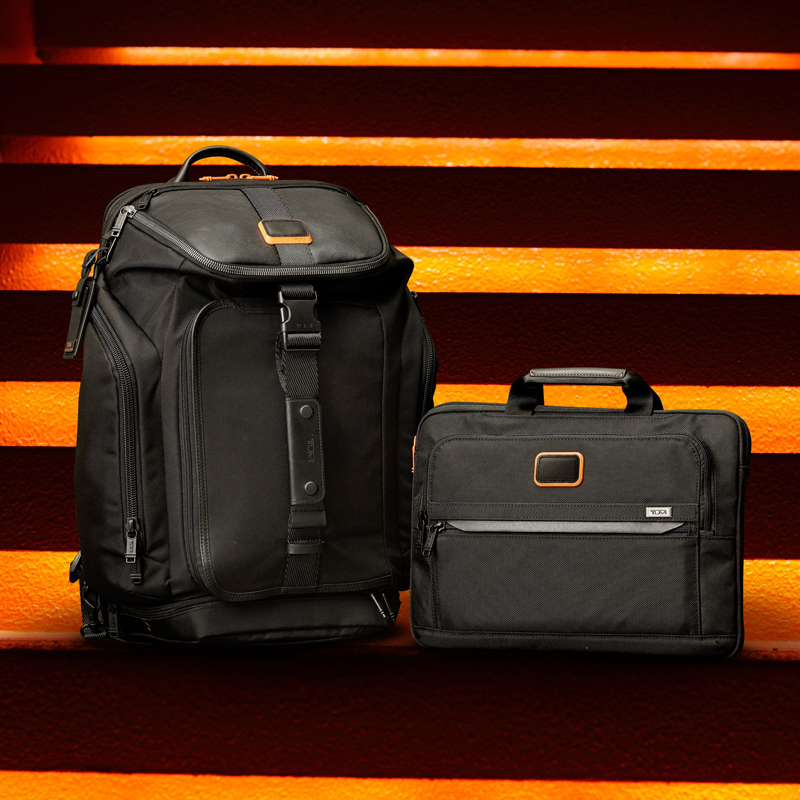 TUMI x Chris Pratt Packing Cubes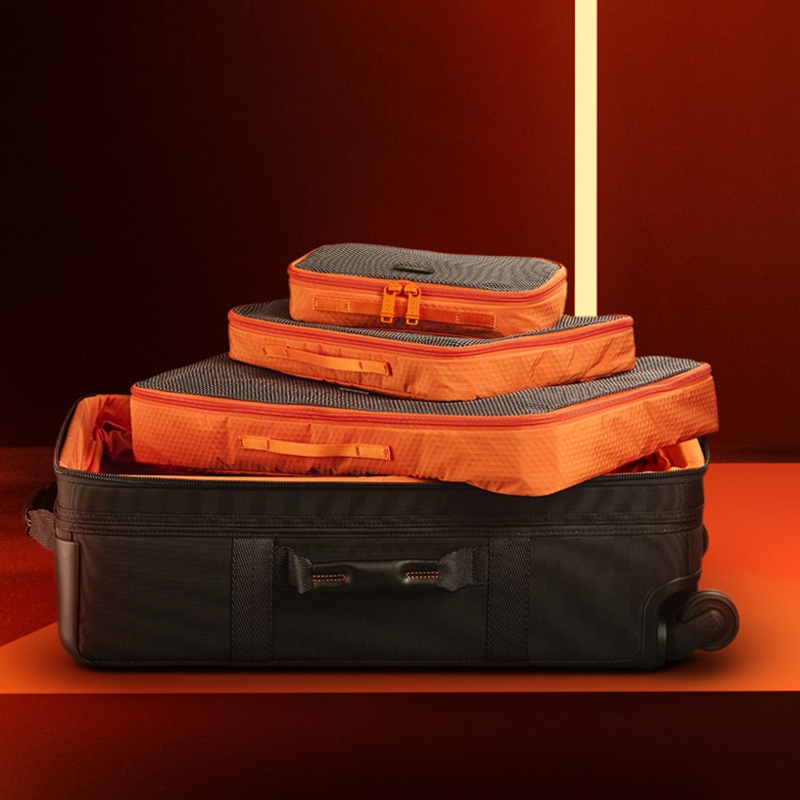 Complementing the travel cases are TUMI x Chris Pratt Packing Cubes in three different sizes. These essentials are some of Chris' all-time favorite travel accessories and help him perfect his pack. Packing cubes are great for keeping belongings organized and ready for life on the move. Useful and fun accessories such as the TUMI x Chris Pratt S'well 17oz Bottle and TUMI x Chris Pratt Rubik's Cube round out the assortment to give travelers all the tools they need to enjoy their journey. For China, an exclusive TUMI x Chris Pratt Surefire Flashlight will also be available in the collection's signature Orange as a functional yet stylish accessory.
TUMI recently unveiled the second phase of its regional Asia Pacific & Middle East campaign starring Hollywood actor Chris Pratt. In new imagery and videos captured during his trip to Hong Kong, Chris Pratt is able to stay fully present and appreciate all the city has to offer with TUMI perfecting his journey along the way. Following his TUMI launch earlier this year with a regional press conference and VIP event in Hong Kong, Chris took the chance to uncover the charms of a destination that is new to him; marveling at the contrast between the city's culture and natural beauty. At the time of filming, Chris was only in the city for a short time- to make the most of the short trip he immersed himself into enjoying all that he could, while finding moments to engage in each new experience.