The perennial Chloé optimism looks ever forward, embracing the possibilities of women and the power unlocked by their vital communion. Reflecting on intimacies and affirmations with oneself and the world around us, the Summer 2021 collection designed by Natacha Ramsay-Levi appears as a series of signposts: silhouettes in constant movement on the streets of Paris that converge on the steps of the Palais de Tokyo. The digital and physical gesture explores the concepts of walking and watching as contemplative exercises, inviting interpretation by both the wearer and her spectators. As female bodies united in this haven of artistic excellence, each strikes a new chord in the show's harmonious soundscape.
Mirroring our global context through the female gaze, the graphic silkscreen works of American artist Corita Kent ebb and flow throughout the collection as moments of urgent visual poetry writ large in colour. They epitomise the season's innately 'collaged' spirit, where an accumulation of Chloé symbols becomes a rebellious act of femininity performed. Amongst multi-layered planes of colour — washed neons, bleached neutrals and warm mineral tones — Corita's artworks are printed, knitted and woven into garments and accessories, epitomising the mixed-media approach to silhouettes and surfaces throughout.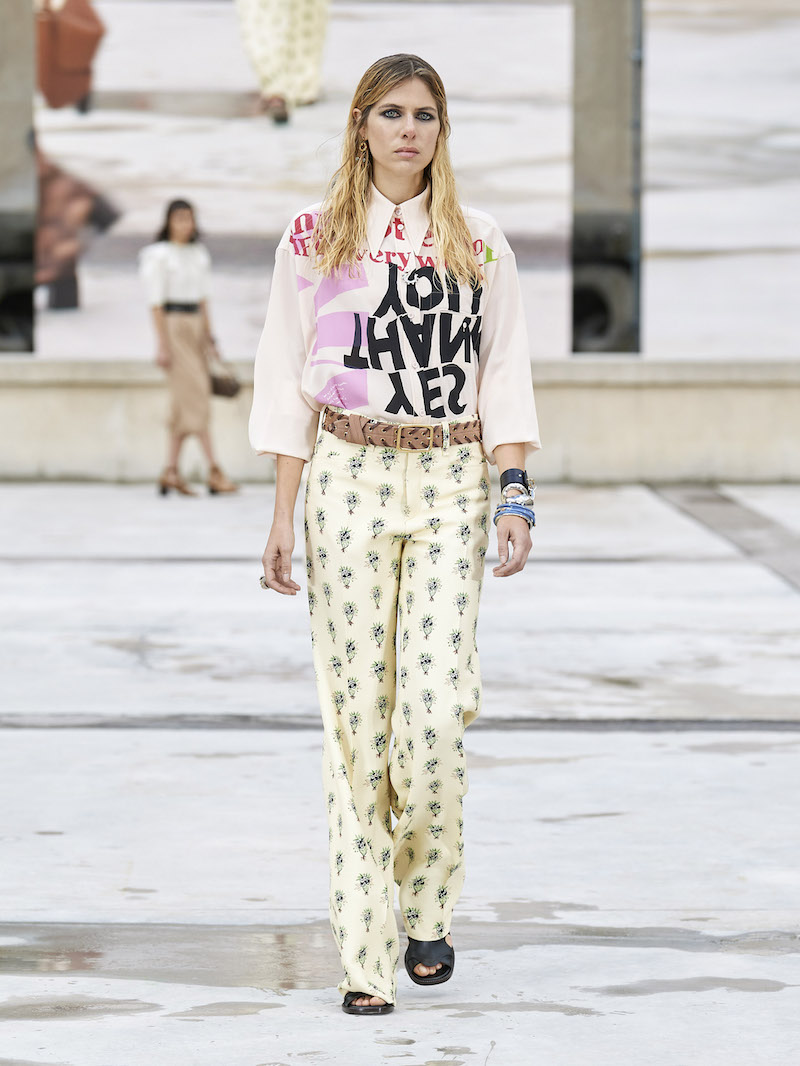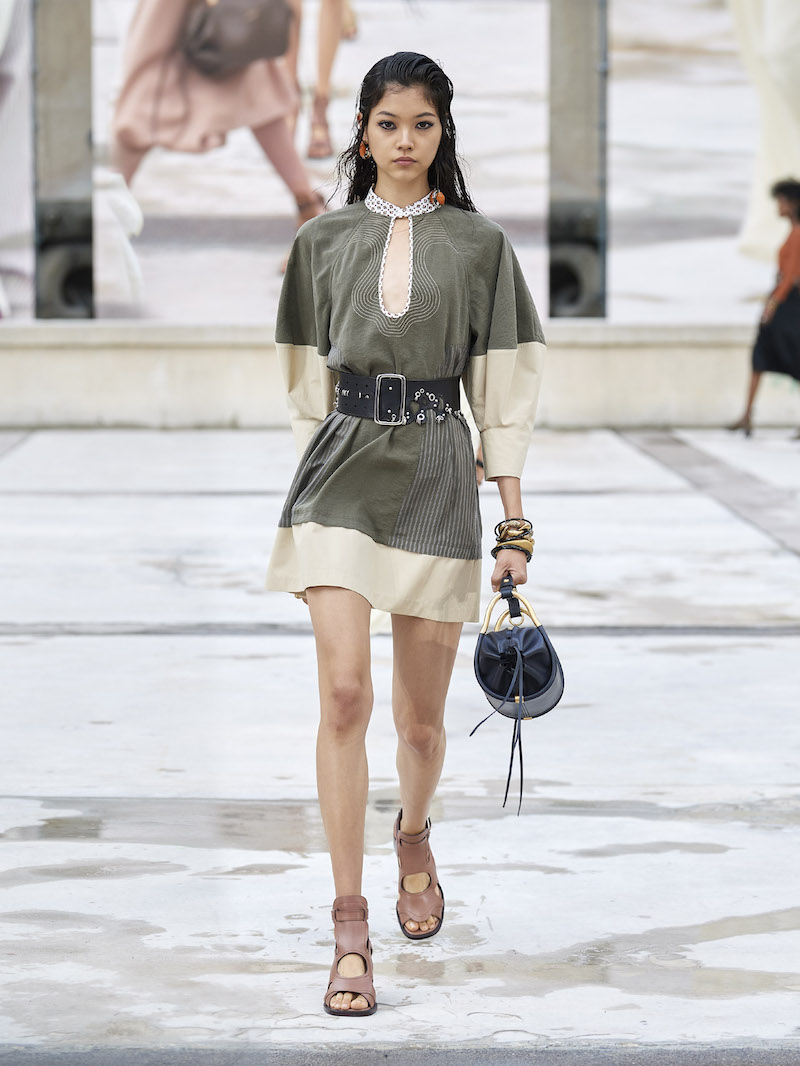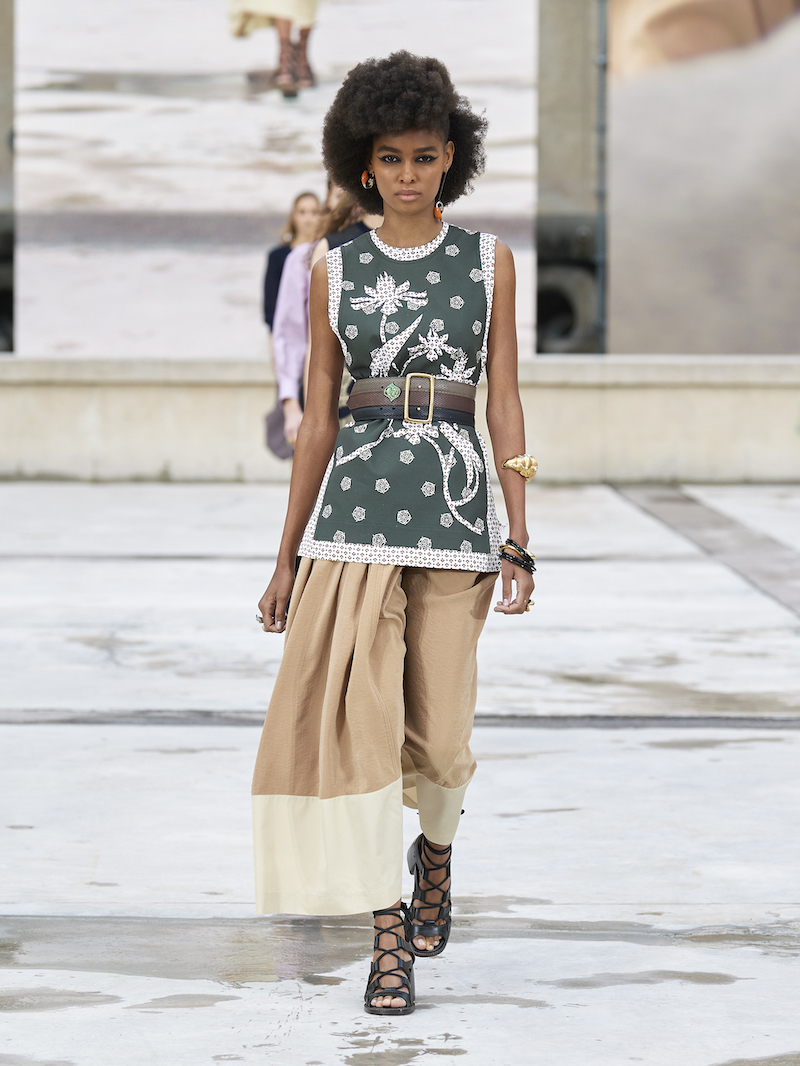 As order in chaos, decoration is tempered by graceful geometries. In effortless statements of Chloé flou, pleated crèpe 'arsenic' dresses and camisoles are set with fine lines of valenciennes lacework, embroidered butterfly collars adorn supple rib knits, and cotton tunics are stenciled with posies or appliqué Art Nouveau blooms. Caught by tooled and topstitched trench belts, sack skirts and tablier dresses in silk and summer wools juxtapose ruffled shoulders, crochet inserts and contrast broderie anglaise. Boyish separates ground the season's airy silhouettes, from long blazers and camp shirts to full trousers and pleat shorts in stonewash gabardine — each piece a new expression of timeless Chloé attitudes remixed and revisited for today.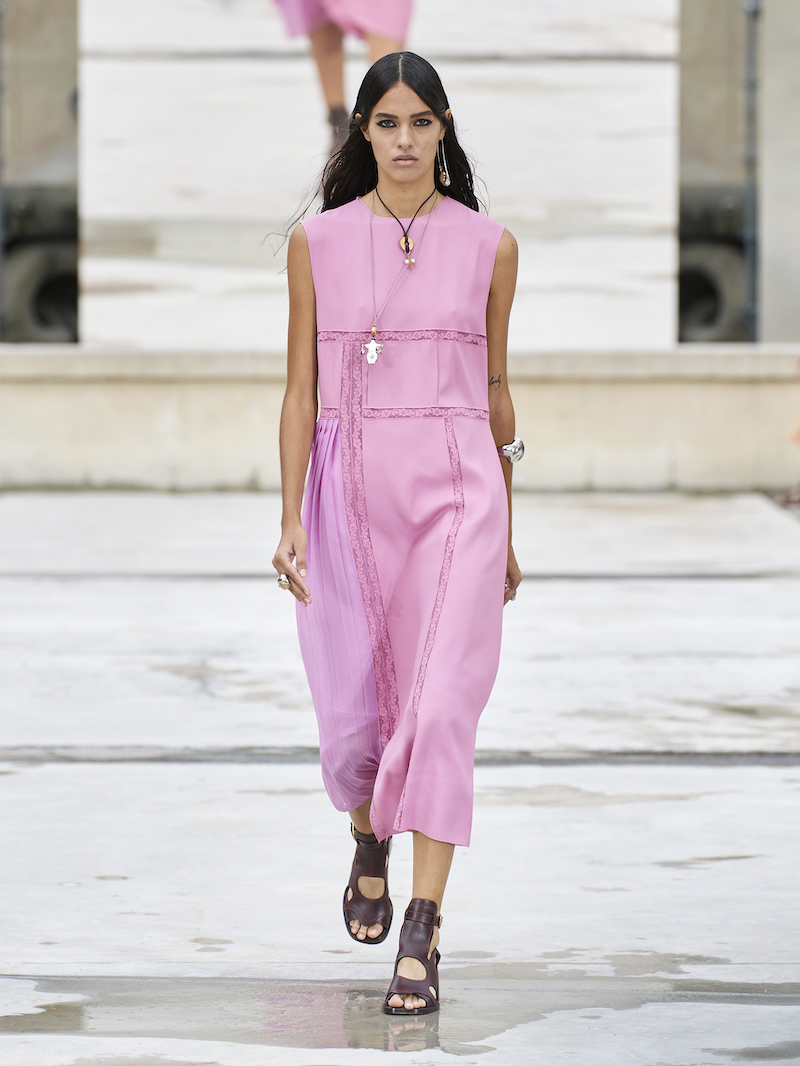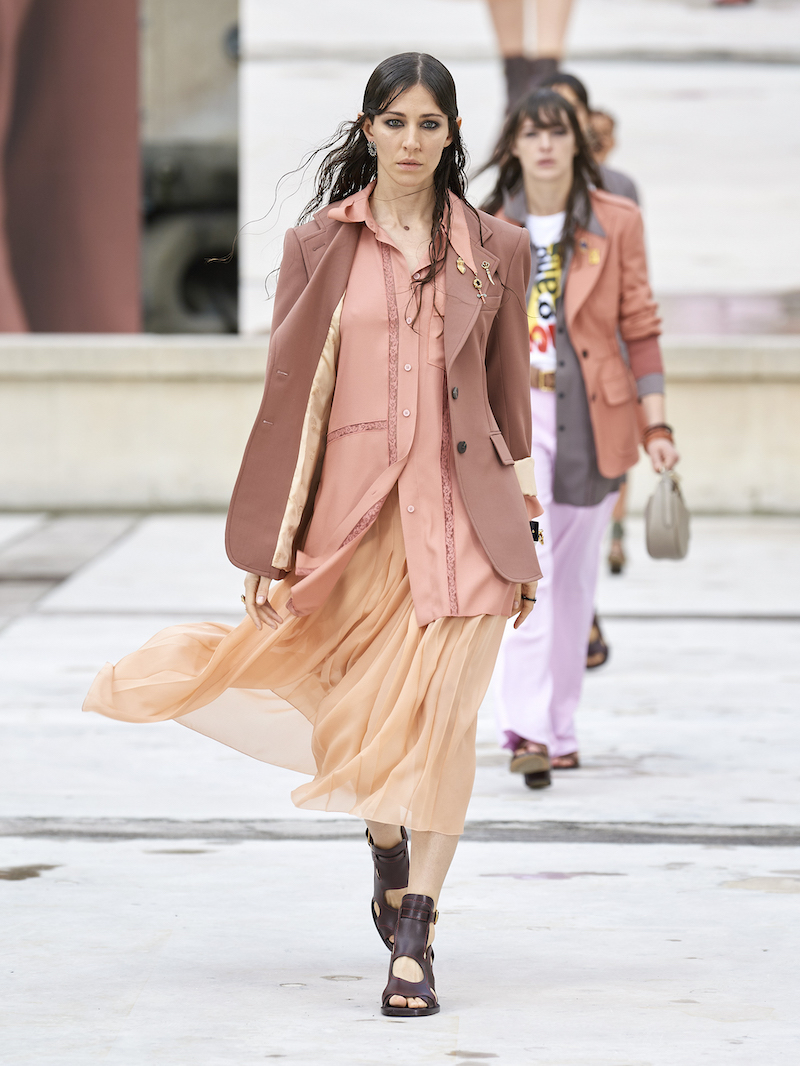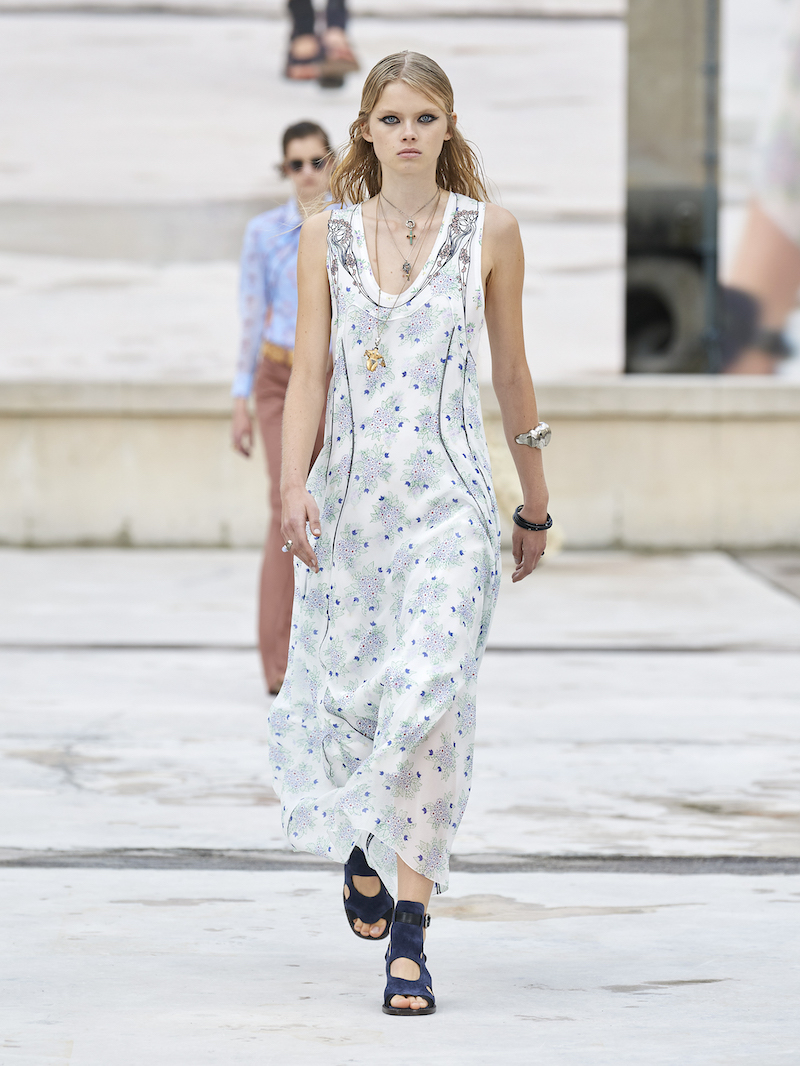 Interwoven with gestures and characters of seasons past, the Chloé Spring Summer 2021 accessories collection remains a bold step forward, introducing the sculptural gilded motif of the new Chloé Kiss that scales up and down as hardware on hobo and moulded clutch bags, belts and jewellery pieces. The new Hailey bolster-shaped handbag in smooth calfskin features a brushed gold stirrup frame and supple drawstring sides, whilst the classic Daria and a new sunglasses pouch are stamped with Corita Kent's silkscreen word art. Femininities amulet jewels return engraved and inlaid, ergonomic cuffs are sheathed in leather and enamel, as the Chloé Kiss becomes drop earrings and a shapely infinity pendant. On foot, laced and keyhole sandal boots create a contoured line in layered leather, canvas and suede.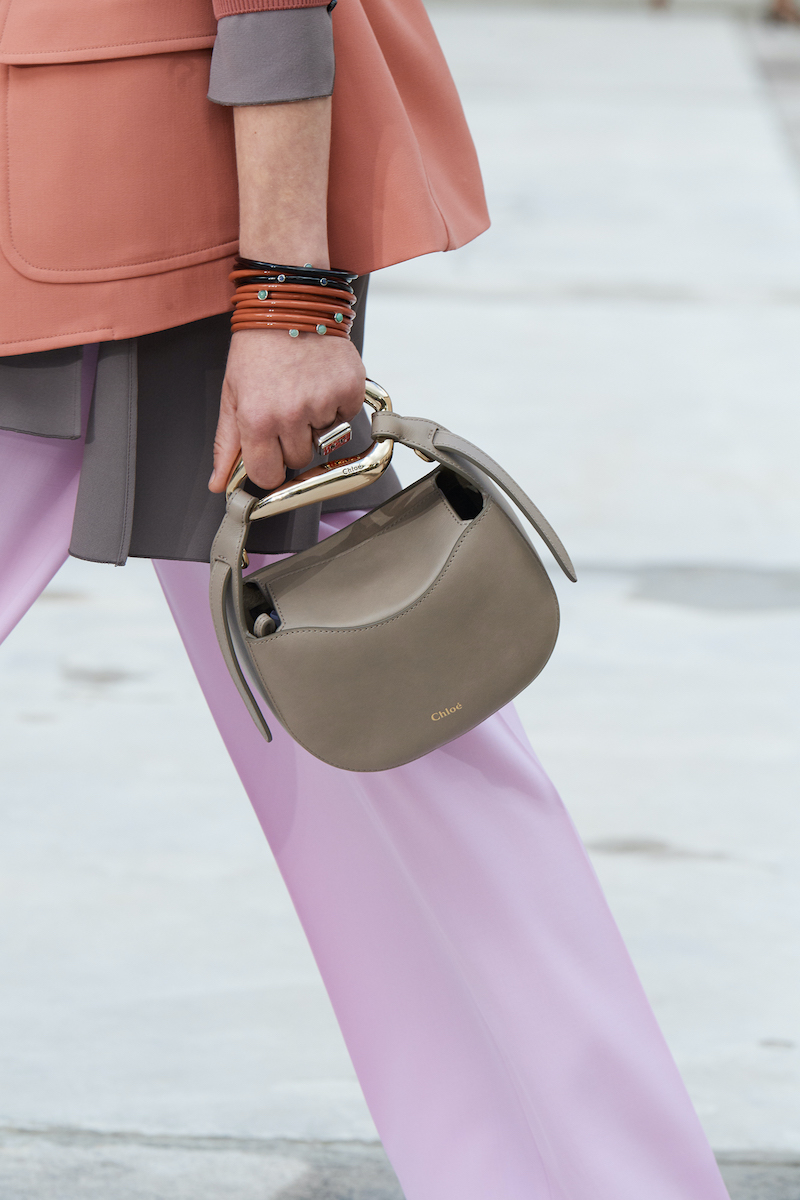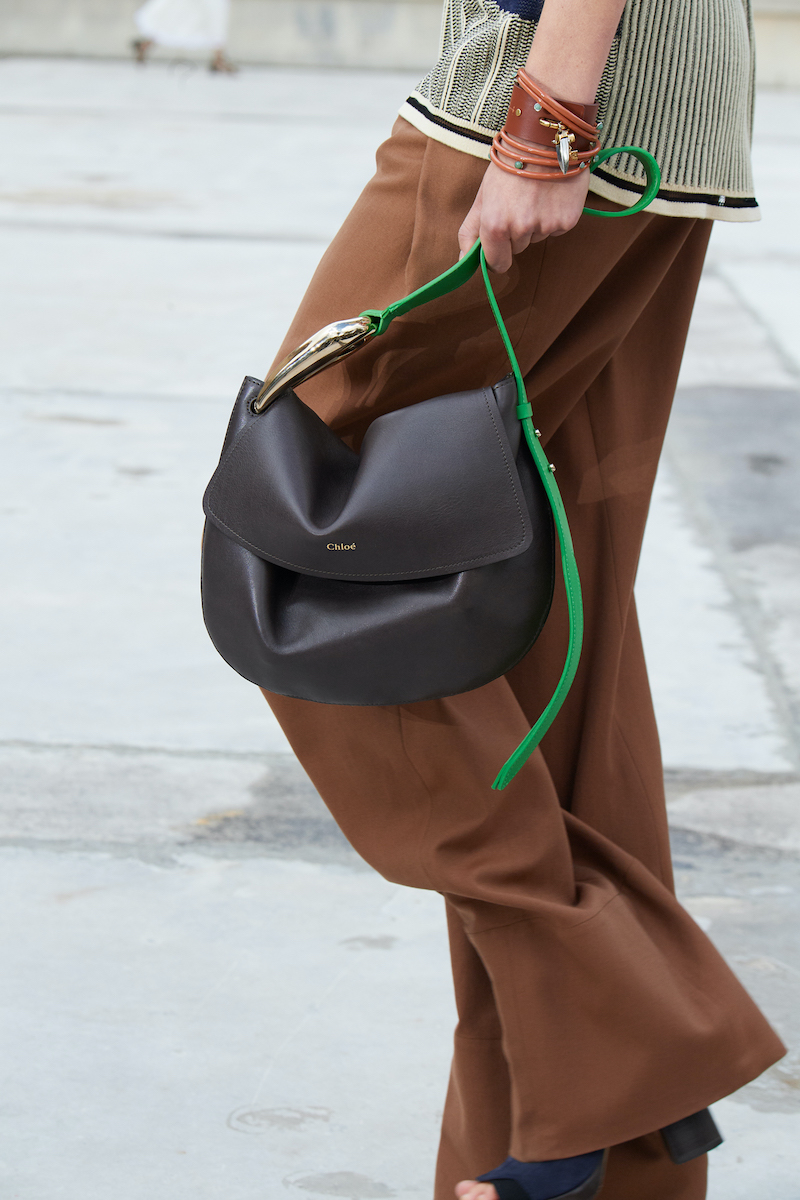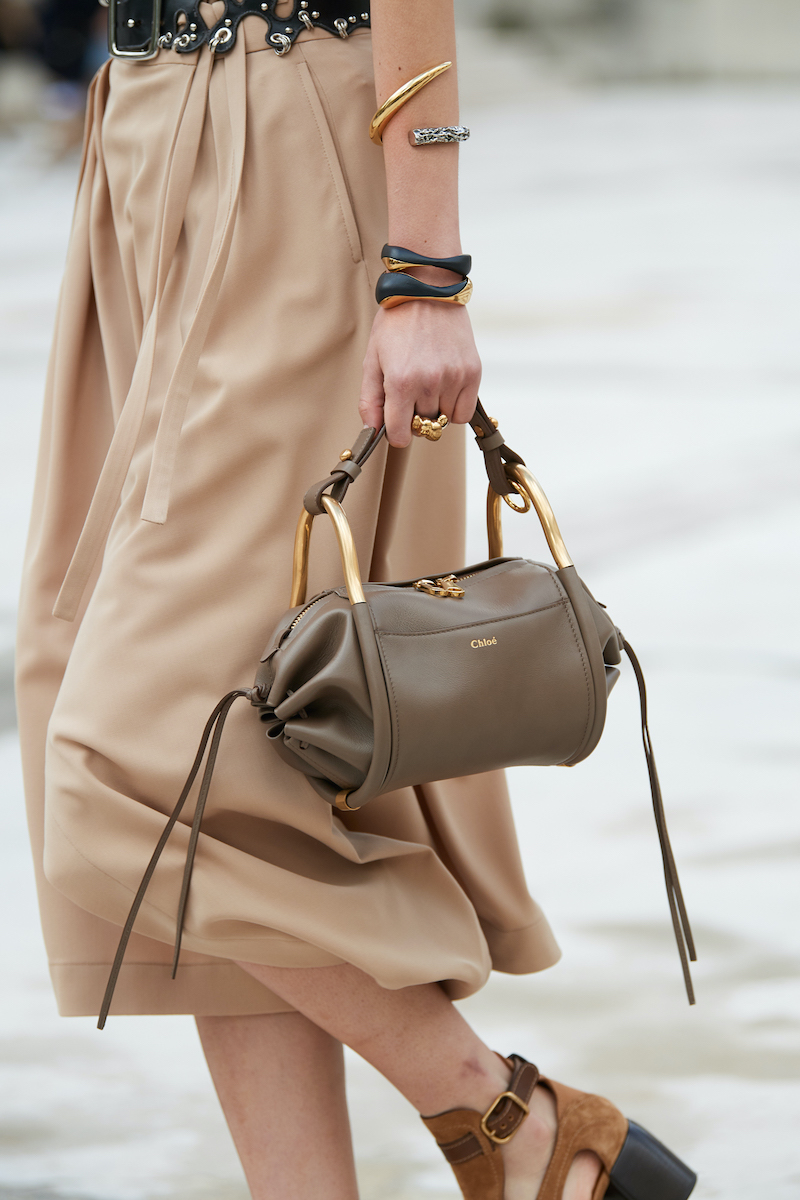 About Corita Kent
Corita Kent (1918–1986) was an American artist, educator, and advocate for social justice. Kent entered the religious order of the Immaculate Heart of Mary, Los Angeles, where she studied from age 18 before teaching art at the Immaculate Heart College from 1938-68. There she received such notable friends as Alfred Hitchcock, Buckminster Fuller, John Cage and Charles & Ray Eames as guest speakers.
Throughout the 1960s, Corita's bold, colourful silkscreen 'serigraphy' work gaining momentum until she left the church in 1968 to pursue her artistic career and teaching. She continued her serigraphic work and developed a 'plein air' outdoor watercolour practice in Boston, Massachusetts until her death in 1986. In her memory, the Corita Art Center was created in Hollywood, Los Angeles, and holds the world's largest collection of
Corita's work and archival materials.
The Chloé Spring Summer 2021 collection includes the following artworks by Corita Kent: 'hope' (1965), 'give the gang our best' (1966), 'i can handle it' (1966), 'for emergency use soft shoulder' (1966), and 'viva' (1967), courtesy of the Corita Art Center, Los Angeles. Part of proceeds from the Spring Summer 2021 collaboration will support the Corita Art Center, a non-profit organisation dedicated to preserving Corita's legacy. For more information, please visit corita.org.