Through painting, sculpture and poetry, the Chloé Winter 2020 fashion show invokes a potent synergy of performative spirits. At the intersection of multiple feminine worlds, Chloé creative director Natacha Ramsay-Levi explores a diverse landscape of women whose secret complexities reject the boundaries of classical definition.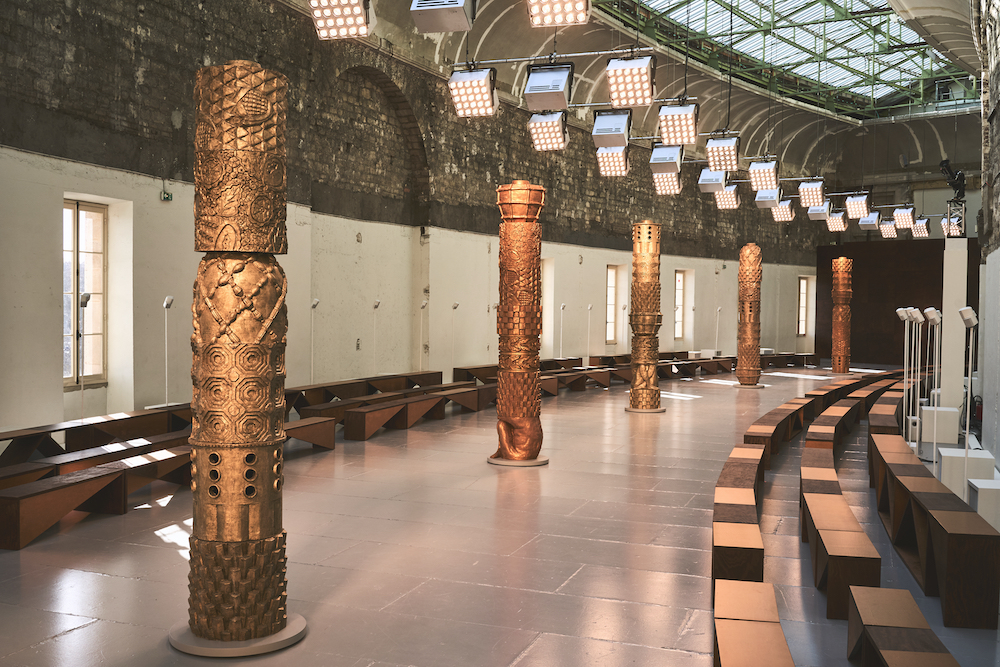 In a space delineated by the sculptor Marion Verboom's voluptuous gilded totems, the voice of Marianne Faithfull reads from a mythical canon of classic poetry. Within this audiovisual construct, the ready-to-wear collection is unveiled – accompanied by the figurative line of painter Rita Ackermann, Ramsay Levi's longtime friend. Brimming with a layered discourse on contemporary femininity, her illustrated, nymph-like women are replicated – unchanged from the canvas – to garments and accessories.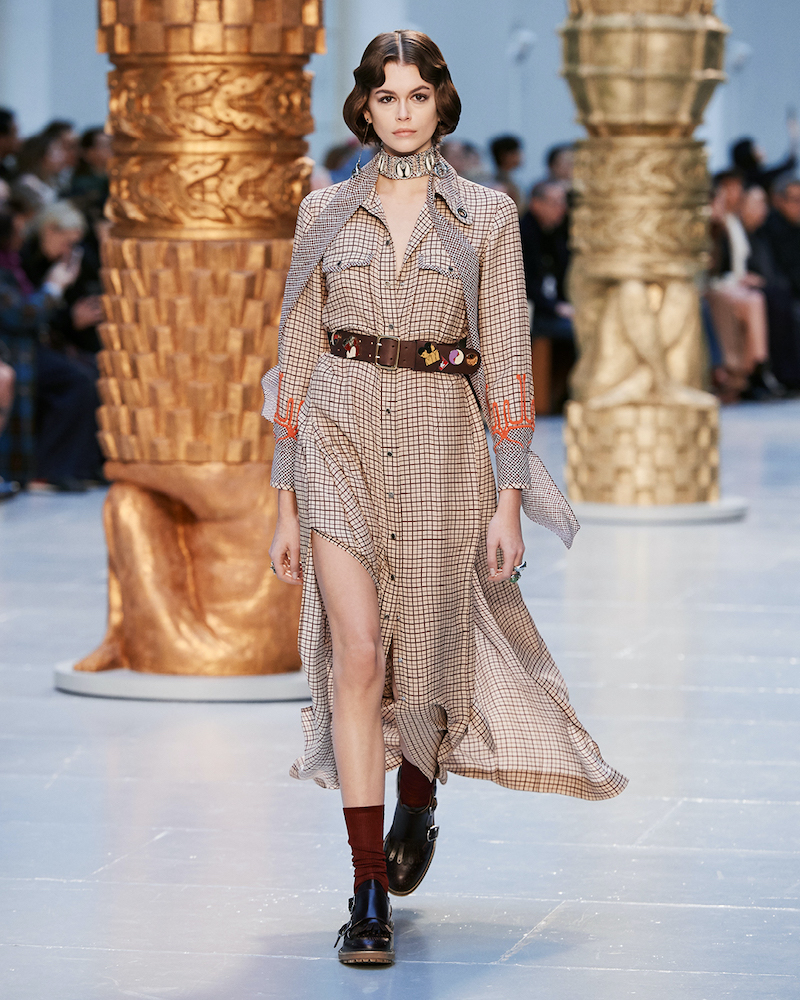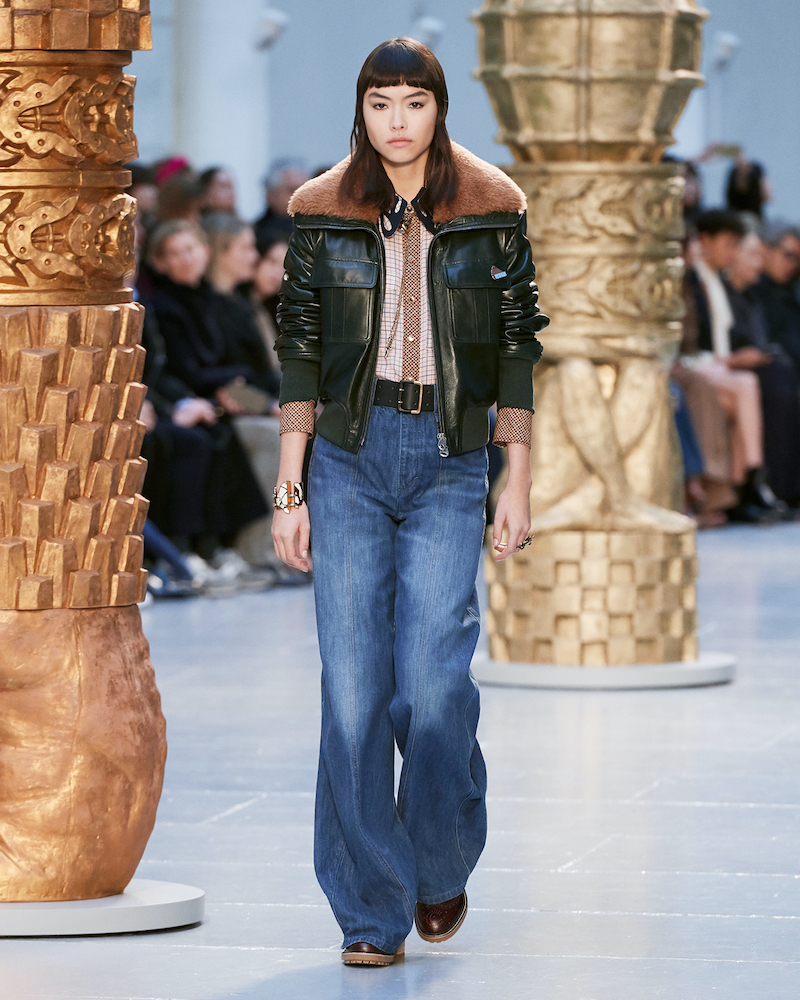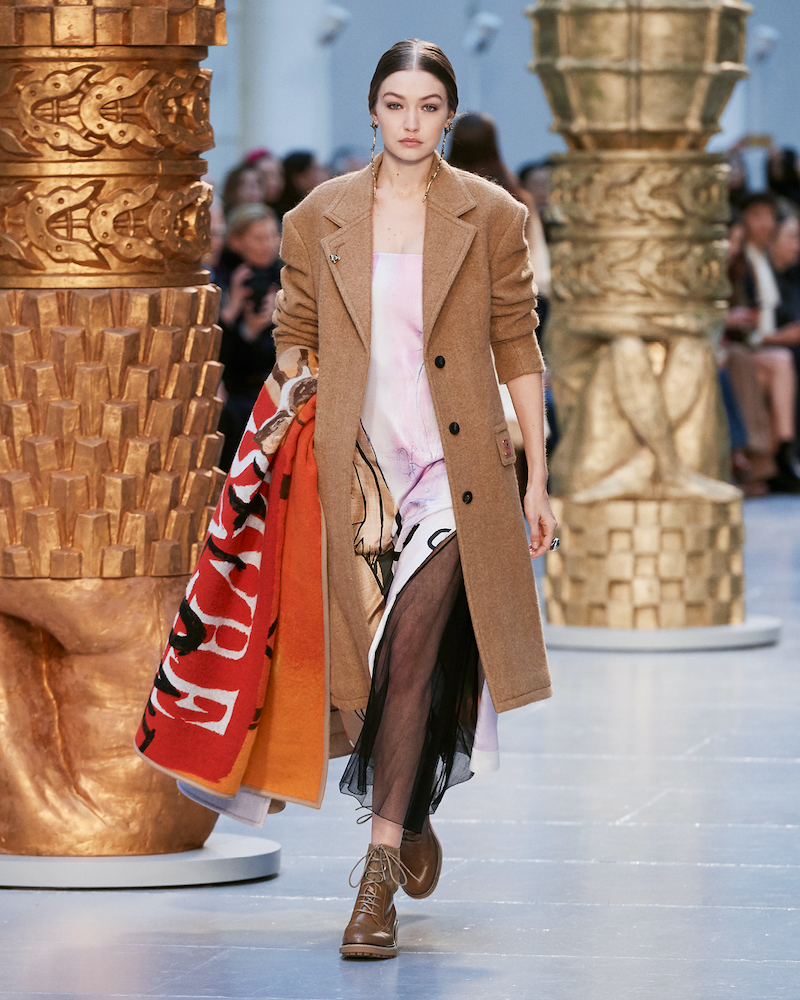 Pregnant with memory and symbolism, the Winter 2020 collection weaves together a multitude of female stories, worn on the faces of a worldly cast of independent characters. Tones of heather and dun, ochre, chestnut, dusty blues and burnt sienna mark their path. By first assuming the codes of a masculine wardrobe, they are then dissolved – transformed by the hallmarks of an ethereal womanhood. Within this frame, deft touches of handwork create a bucolic romance. From pearlescent 3D paisley and beaded collars to cross-stitch and broderie anglaise, fragility enters the sartorial vocabulary of the shirt dress, hunting jacket, wide denim and a slouchy flared suit. Tooled belts encircle Aran and argyle knit dresses, flannel cashmere blazers and cabans over a club collar blouse. Flou graduates from patched paisleys and polka dots to a passage of sylph-like evening dresses encrusted with Art Nouveau petals.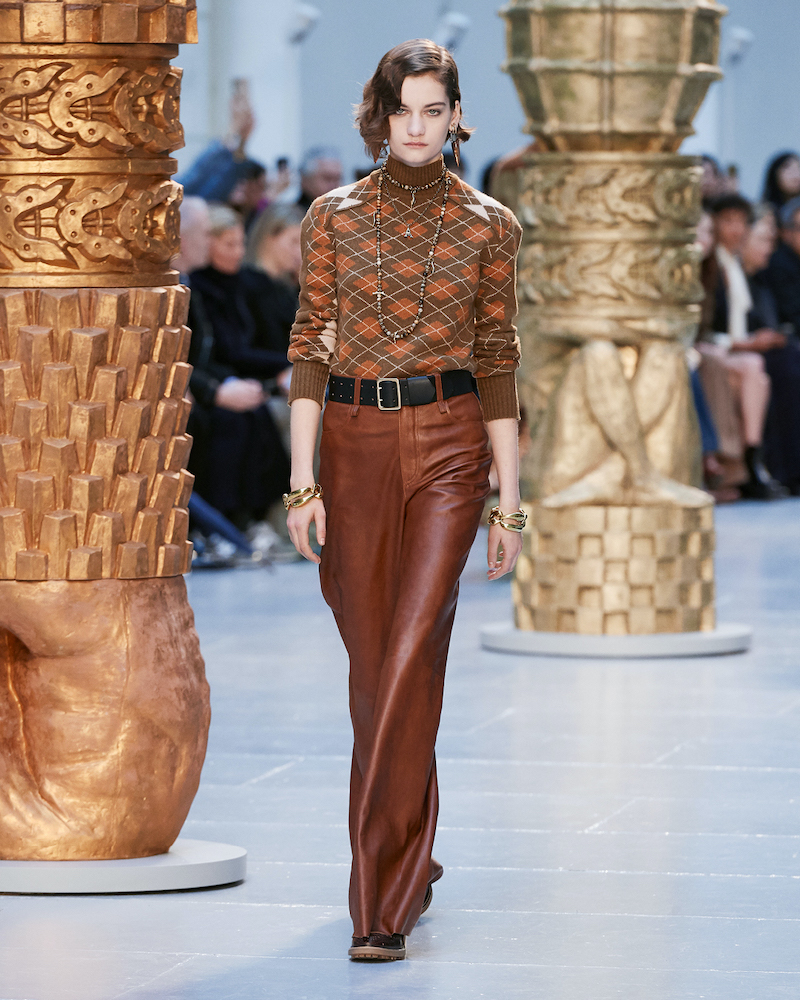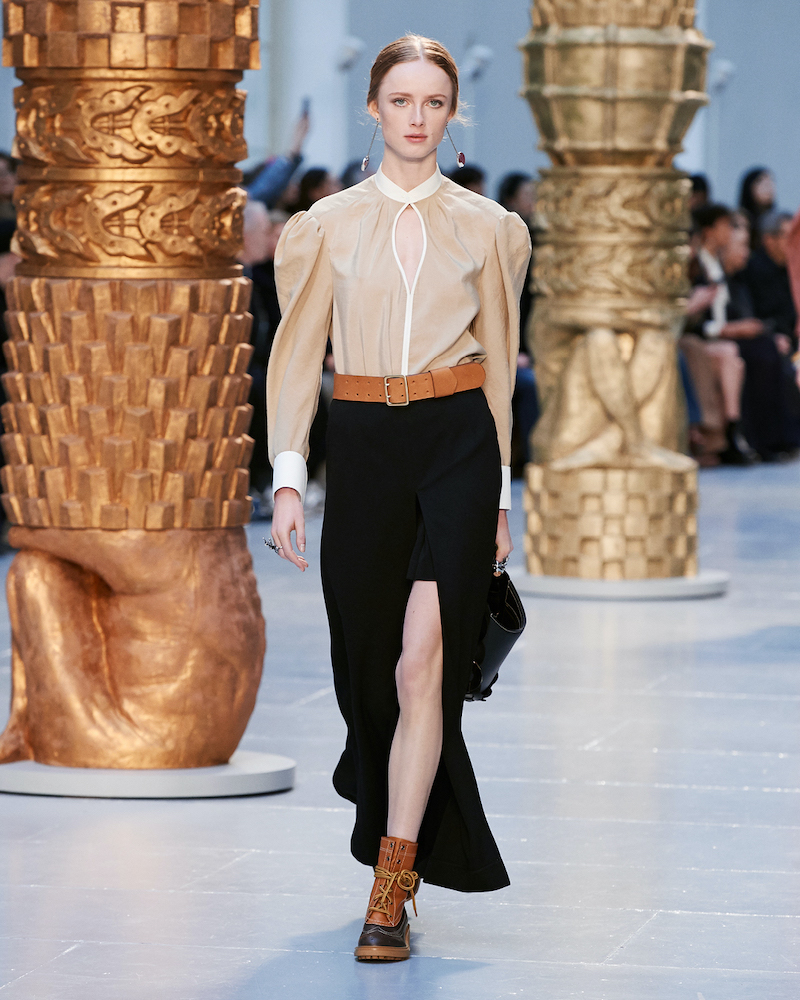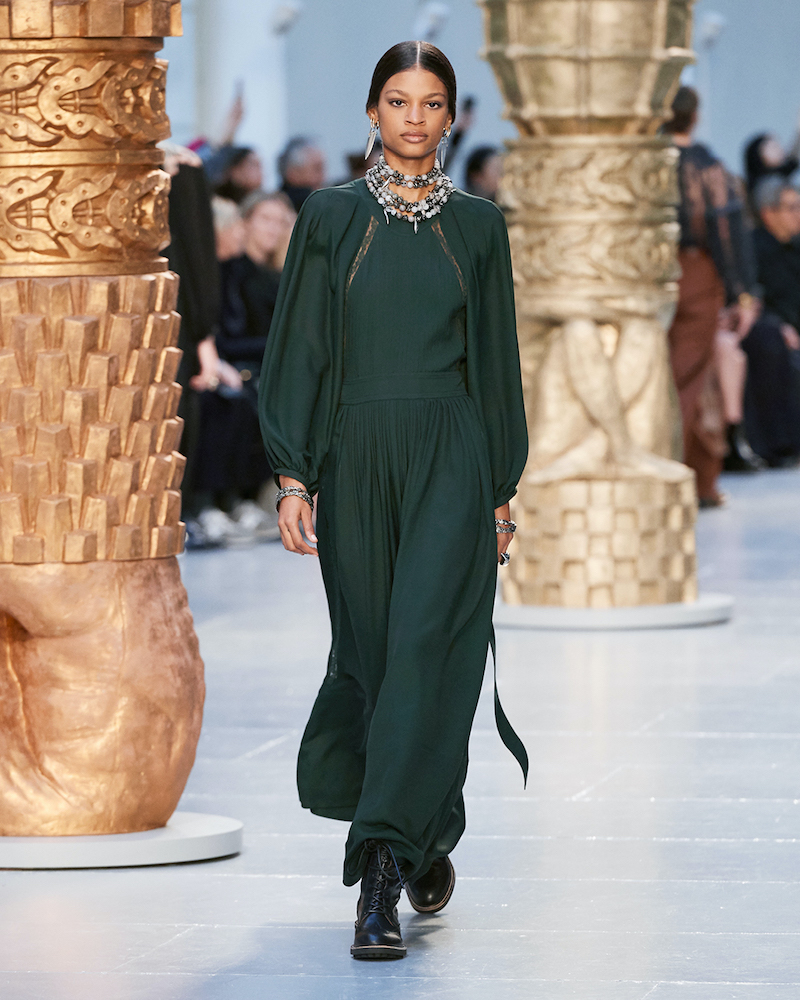 The Chloé accessories collection for Winter 2020 is marked by the patina of time. Strings of agate beads cluster at the neck, as delicate hammered leaves and branches suspend from drop earrings or curl around enamel bangles and resin cuffs. The mini Daria bag is crafted in stamped croc and corduroy suede, whilst the slouchy Darryl hobo appears in pebbled calfskin and rich suede. Making its runway debut, the double buckled Franne micro crossbody is juxtaposed with roomy Fredy totes stamped with a geometric monogram. On foot, stacked lace-up boots and monk strap shoes are tasseled and brogued, as Chelsea boots are paneled in stamped exotic leathers.
RITA ACKERMANN, HUNGARY. Born 1968.
Lives and works in NYC, USA.
The Winter 2020 collection includes a series of ready-to-wear garments and accessories featuring original artworks from 1990S from the painter Rita Ackermann's archive. The figurative mixed media paintings explore femininity and abstraction. Both demure and rebellious, Ackermann's works are carefully placed on precious silk flou, knitwear, jersey tees, and the lining of a tailored coat. The Daria and Darryl handbags are transformed in all-over prints, as Ackermann's naïve female characters are rendered as enamel jewelry and a blanket in wool cashmere jacquard.
MARION VERBOOM, FRANCE. Born 1983.
Lives and works in Paris, France.
The Winter 2020 show space is dominated by an installation of sculptures by the French artist Marion Verboom. Entitled 'Tectonies', the five golden columns were conceived for the 2019 exhibition Infinite Sculpture: From the Antique Cast to the 3D Scanheld at the Palais des Beaux-Arts in Paris. Treated with an aged golden patina, the sequence of pillars is inspired by classical traditions where Greco-Roman elements are combined with the schematic complexities of nature – from Art Deco florals to the pinecone, beehive, and human uterus. Their intricate ornamentation forms a unique dialogue with the interplay of decorative references within the Winter 2020 collection, and the universal feminine vision of the maison.
'Tectonies' will be exhibited at the Calouste Gulbenkian Museumin Lisbon, Portugal from April 24 – September 7, 2020.
MARIANNE FAITHFULL, BRITAIN. Born 1946.
Lives and works in London, UK.
During the Winter 2020 fashion show, Chloé welcomes back longtime muse Marianne Faithfull with an exclusive spoken word soundtrack. Recorded in London and accompanied by a new composition by JACKSON, the British singer and songwriter reads excerpts from a suite of classical works by Louisa May Alcott, Lord Byron, F. Scott Fitzgerald, Frances Ellen Watkins Harper, Christina Rossetti and William Butler Yeats, chosen in collaboration with Natacha Ramsay-Levi.